If you have found an injured or orphaned bird, please text a photo of the bird, your county location, and a BRIEF description of the situation to 734.761.9640. Please do not bring a bird to the Bird Center without speaking to a staff member first.
If you have found a baby bird, please refer to this "Life Stages of Songbirds" chart for instructions. You can call the Bird Center at 734.761.9640 for tips on renesting, making a makeshift nest, or determining if the bird needs to be brought in for rehabilitation. NEVER offer a baby bird food or water.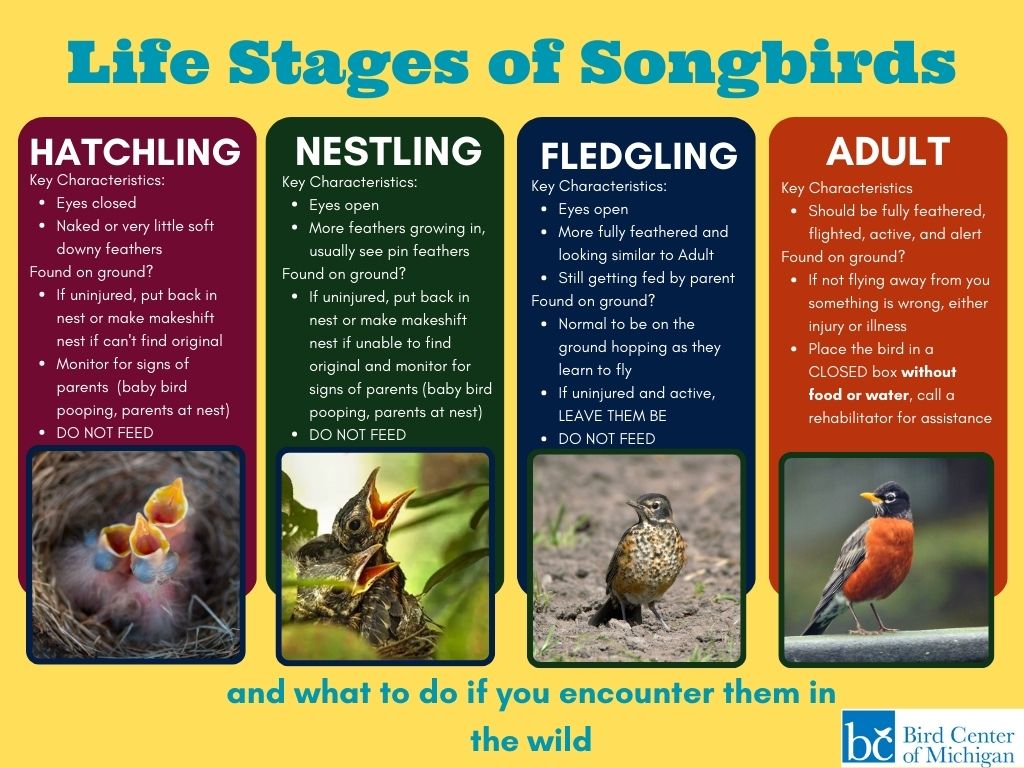 For non-emergencies, you can email our clinic staff at [email protected]. Please do not email if you have an injured or orphaned bird needing assistance.
The Bird Center of Michigan strives to answer calls and texts right away. Please be patient if we do not answer your call right away, as we care for over 200 birds at a time during our busy baby season. We answer and respond to messages as fast as possible. While waiting for a response, please keep the bird in a box without any food or water. Do not attempt to give food or water to the bird. Do not release an injured bird.
---
For bird-related questions or concerns, please contact the Bird Center of Michigan by phone or email:
Clinic Phone: 734.761.9640
Clinic Email: [email protected] (non-emergency inquiries only)
For information about donations, sponsorships, or business-related concerns, please email our administrators at [email protected].
For information about volunteering at the Bird Center, please email our Volunteer Coordinator at [email protected].
For an update on a bird you rescued, please email [email protected] with the bird's ID number and date of rescue.
---
Mailing address:
Bird Center of Michigan
P.O. Box 3718
Ann Arbor, MI 48106