Internship Application
The deadline to apply for our Summer 2023 internship program has passed, and we'd like to thank everyone who applied! We received a wide variety of qualified applicants and we're so excited for baby season to begin!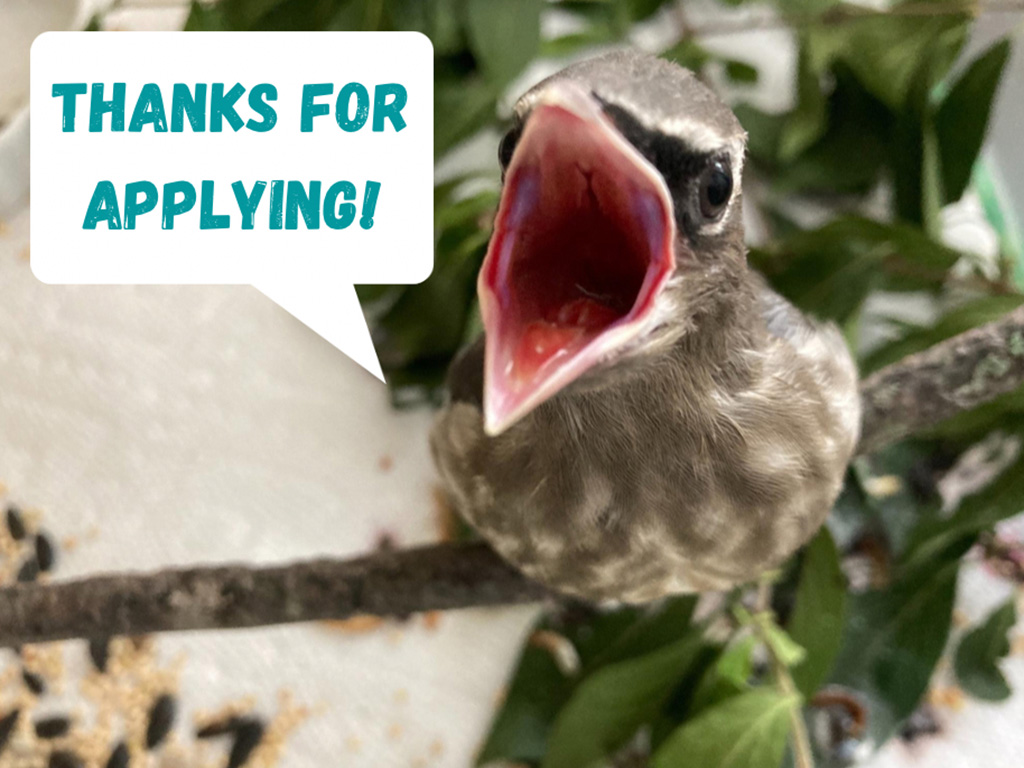 ---
In 2022, the Bird Center of Michigan operated safely throughout the busy summer season while facing the challenge of HPAI and admitting over 1,700 birds. We help injured or abandoned wild songbirds and we receive over 2,500 phone calls during the season. Our mission is to rehabilitate and release as many birds as we can while educating the public. The Bird Center works under both Michigan DNR and U.S. Fish and Wildlife permits for rehabilitation of migratory birds and is able to accept marsh and shore birds.
---
Information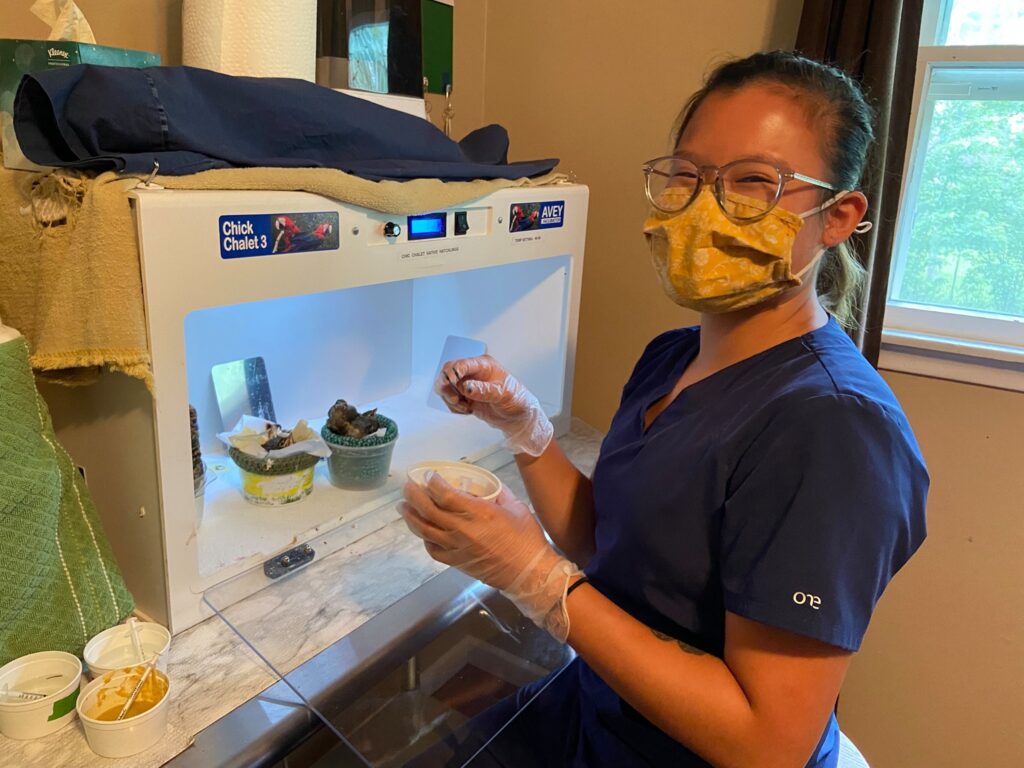 Position: Wildlife Rehabilitator Intern
Dates: This position will be from May 1, 2022 through mid/end of August. Fall internship positions TBD.
Pay: Part-time and full-time hours are available. Part-time (21-22 hrs. a week) will receive $50 stipend weekly and full-time (35-37 hrs. a week) will receive $100 stipend weekly.
Schedule: Shifts for interns are from 7 a.m. to 2:00 p.m. and 2:00 p.m. to 9 p.m., with a possible overlap mid-day for shift change. BCM work schedules include working rotated AM and PM weekdays and weekends and includes some government holidays. We ask that you have minimal requests off for the busy summer season.
How to Apply: Send resume and application to [email protected].
---
Preferred Qualifications
Should be enrolled, or plan to be, in a program that has to do with wildlife, conservation, science program, pre-vet, etc.
Should have animal handling experience, knowledge, and appreciation.
For health and safety reasons, interns must be in good health, not pregnant, and at least 18. years of age. Must be able to bend, lift, and be on your feet for a period of time.
Valid State ID and an up-to-date tetanus shot is a requirement.
Reliable transportation to get to and from work.
---
Duties and Responsibilities
All of the duties and responsibilities needed for this internship are trained on the job by trained staff members. It is up to the individual to study and learn rehabilitation protocols of the Bird Center. Below are a few protocols and skills you will learn and use as an intern:
Feed and tend to injured and orphaned songbirds of all ages and species.
Maintain accurate health records and documentation of daily weights, medications, injuries, and more in our online database.
Learn how to properly set up, clean, and maintain injured/orphaned bird enclosures and outdoor flight cages.
Provide species specific diets and enrichment to over 80 bird species.
Work closely with staff, fellow interns, volunteers, and the public.
Develop an understanding of avian anatomy, symptoms of illness, and learn how to perform thorough exams on birds ranging in size from a Ruby-throated Hummingbird to an American Crow.
Learn skills like how to check for bone breaks, properly bandage injuries, and perform basic physical therapy on birds.
Skills involving the handling, medicating, and measuring of birds of varying sizes.
Ability to interact professionally with the public, both in person and on the phone. The public often calls the Bird Center for help regarding injured or abandoned birds. Therefore, strong communication and interpersonal skills are needed.
Ability to handle bird feces, blood, injuries, and humane euthanasia.
Ability to handle a variety of live insects such as mealworms, beetles, and crickets.
All interns will receive a Bird Center manual prior to the internship and navy-blue scrubs, which is the daily uniform.
---
BCM is an Equal Opportunity Employer. Our internships are open to all. We value diversity and do not permit any discrimination against applicants, employees, or volunteers on the basis of race, ethnicity, national origin, gender, age, religion, sexual orientation, marital status, veteran status, medical condition, or disability, or any other status protected by applicable law or statute in any of our policies or program.